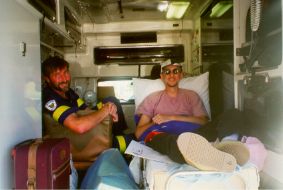 This picture was taken at the airport in Hobart, Tasmania with Neale Smith

Described by Paul as his "lucky break". Neale was only 10 minutes from the end of his shift as a paramedic in Hobart when the call came through that was to end in the dramatic rescue from the Totem Pole after 10 hours. Neale flew to the 'Tote by helicopter and landed a kilometre away. After running the remainder and finding Paul's tyrolean rope in place, he made the agonising decision to lower Paul down to a waiting rescue boat without the 'full-on spinal care' which would have meant waiting for a spinal board and full immobilisation.

Everyone now agrees that those precious minutes that Neale saved whilst there on the 'Tote alone with Paul probably saved his life. Neale has been a climber for 22 years.