2011
To attempt an all disabled crossing of the himalayas on a tricycle from Lhasa to Kathmandu.
2009
Led first route after an eleven year gap.

2004
Successful all-disabled ascent on Kilimanjaro (5896 metres) by the Western Breach Route. Rock climbing again in Colorado and Snowdonia.
Federation Peak ©Grant Dixon.
2002
Eighteen days spent traversing the Eastern Arthur Range and an attempt on Federation Peak in Tasmania.
From left to right: Bernard Kinyua, Jane Boucher and Paul Pritchard on the summit of Point Lenana, Mount Kenya.

2001
Success on Point Lenana on Mount Kenya. The climb was sponsored in aid of
Headway
- a non-profit brain injury charity that works with people who have suffered a traumatic head injury.
2000
Trekking in the Utah Desert (USA) and Tasmania and a failed attempt to climb Jebel Toubkal in the Atlas mountains of Morocco.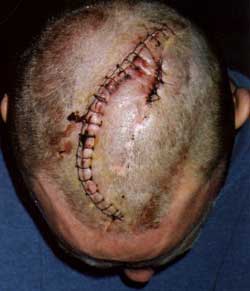 1998
Climbing upon Mount Kinabalu, Borneo, The Blue Mountains and Mount Buffalo in Australia. Accident on Friday 13th February.
1997
First ascent of The Wall of Dykes (1200m), an all free climb in the Ak-Su Valley, Khirgizistan.
1996
Two months winter climbing in Scotland. Last new routes at Gogarth, most notably Sign of The Sun Dog and 93 000 000 Miles.
1995
In Karakorum, Pakistan; Trango Tower (6350m), Slovene Route in alpine style.
1994
First ascent of Adrift (1000m, 5.10 A4) on El Capitan, Yosemite, California. First ascent of Hyperborea (1000m) on the West face of Mount Asgard, Baffin Island.
1993
Attempt on East face of Cerro Torre, Argentina and first ascent of Corn Wall (500m) on North Tower of Paine. Attempt on the Meru Sharks Fin in Gangotri, India reaching 6300m. More new routes in Karnataka, India.
1000m up on El Regalo de Mwoma
1991/2
First ascent of El Regalo de Mwoma (1200m) on East face of Central Tower of Paine, Patagonia. First ascent of El Caballo de Diablo (600m) on the North Tower of Paine - the first alpine style free climb in the Paine. First ascent of Planet Earth (600m) on Paine Chico. Eight months followed climbing in South America - New routes in Argentina, Big walls in the Brazilian forests and solos of 6000m peaks in Bolivia.
1990
Began mountaineering! Attempt on the Estrella Impossible on Bhagirathi III, Gangotri, India, ended without success after being hit by rock-fall. First new routes in Hampi, Karnataka, India.
1989
Much time spent in Europe experimenting with sport climbing. Six months climbing in the deserts of North America. First ascent of Knuckle Sandwich, Strone Ulladale.
1987
Many First ascents in the Dinorwic Slate quarries including; I Ran The Bath, Bathtime, Wishing Well and Cure For A Sick Mind. At Gogarth, first ascent of Super Calabrese (E8) and Unrideable Donkey (E7). In Llanberis Pass first ascents include Surgical Lust and King Wad. Perhaps, most impornt in climbing terms was the first free ascent, with Johnny Dawes, of The Scoop on Strone Ulladale in Scotland.



1986
Moved to Llanberis, Wales at the beginning of the Slate boom and the Gogarth revival. Early repeats of Raped by Affection and Dawes of Perception on the enormous Dinorwig Slate Quarries in Snowdonia. But mostly active on the sea cliffs of Gogarth, Anglesey where new routes included The Enchanted Broccoli Garden, Schittlegruber, Come To Mother, Heart of Gold Direct and Salem.
1984/5
Soon discovered he had an aptitude for dangerous climbs and brought new levels of boldness to Lancashire with ascents of Perimeter Walk (E7), Strawberry Kiss (E7), Pretentious Gallery, Soot Monkey and On The Brink. Five months spent in Verdon Gorge, France.
1983
Began climbing in the quarries that pock marked the moors around his home town in Lancashire.